Redistricting: What it Means for You
20 September @ 6:00 pm

-

8:00 pm
A public event hosted by the LWVGDA's Redistricting/Fair Elections Committee.
20 September 2022, 6:00 p.m.
Dayton Metro Library
Main Library 215 E. Third St. Dayton OH 45402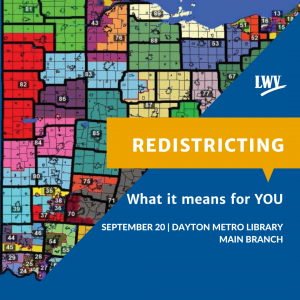 Redistricting in Ohio has been marked by confusion and controversy over the last year. Many of us worked hard in 2015 and 2018 to pass Constitutional amendments that established requirements for fair districts, and we had high hopes that we had finally slain the gerrymander. Instead, we will go to the polls in November to elect Congressmen and state legislators in districts that have been ruled unconstitutional. How did we get into this mess? Where do we go from here? How can we get fair districts that actually let voters choose their representatives?
Get the answers to these and other questions at the community forum "Redistricting – What it Means for You" taking place at the Dayton Metro Library main Library on Tuesday, 20 September, from 6 to 8 p.m. LWVGDA's Redistricting/Fair Elections Committee has organized a panel of experts to discuss the history of redistricting and gerrymandering, how the process went this year, how it could have been done better, how various population groups are impacted, and what changes might help to achieve fair districts.
Participants include: Dennis Turner – Professor Emeritus, University of Dayton School of Law Catherine Turcer – Executive Director, Common Cause Ohio Tom Roberts – Member of the Ohio Citizens Redistricting Commission and President of the Ohio State Conference, NAACP Myla Cardona-Jones, J.D. – Associate Professor, Sinclair Community College Gary Leppla, J.D. – Attorney, Leppla Associates, Ltd. Lucy Anne McKosky will serve as moderator of the discussion. This is an opportunity to increase your understanding of this timely and consequential topic. All League members are invited to come, and to share this invitation with your friends and networks. Democracy depends on an informed and engaged citizenry.